Viewpoint 2: TUNNEL VIEW (Entrance to Yosemite Valley). Traveling northbound on Highway 41 through the park will bring you to Tunnel View. Drive through a mile-long tunnel, emerging to the quintessential view of Yosemite Valley: Bridalveil Fall, Half Dome, Cloud's Rest and El Capitan. Yosemite Valley is only 7 miles long and 1 mile wide--with some of the most spectacular scenery in the world. Immediately after exiting the tunnel parking is available on the right or the left.
Viewpoint 3: BRIDALVEIL FALL - 620 ft. high. It's a quarter mile walk on-way to the base of the waterfall.
Viewpoint 4: YOSEMITE CHAPEL - Oldest building still in use in Yosemite Valley (dating from 1879) and spectacular view of Yosemite Falls and valley from outside the chapel.
Viewpoint 5: SENTINEL BRIDGE: From Yosemite Chapel continue to Sentinel Bridge. Turn left over the bridge and park at Shuttle Stop 11. Walk back to middle of bridge. This is a quintessential photo opportunity of Half Dome reflected in the Merced River.
DAY PARKING: Park your car and take the free Yosemite Valley shuttle to all major spots in the valley. The shuttle runs every 10 to 20 minutes from 7 am to 10 pm. Major destinations are as follows:
Shuttle Point 6: YOSEMITE FALLS (tallest waterfall of its kind in North America at 2,425 ft)– half-mile walk one way to base of Yosemite Falls. When mornings are very cold (below 20 degrees or so) and there's plenty of water in Yosemite Falls, check for the possibility of frazil ice. Also watch for the "snow cone" at the base of upper Yosemite Falls.
Shuttle Point 5/9: VALLEY VISITOR CENTER: Visitor Center & Bookstore – watch "Spirit of Yosemite" film (20 min.), alternating with "A Gathering of Spirit" in Yosemite Conservancy theatre, to gain an understanding of what you're observing and see some seasonally-inaccessible parts of the park—so you can begin planning your next trip!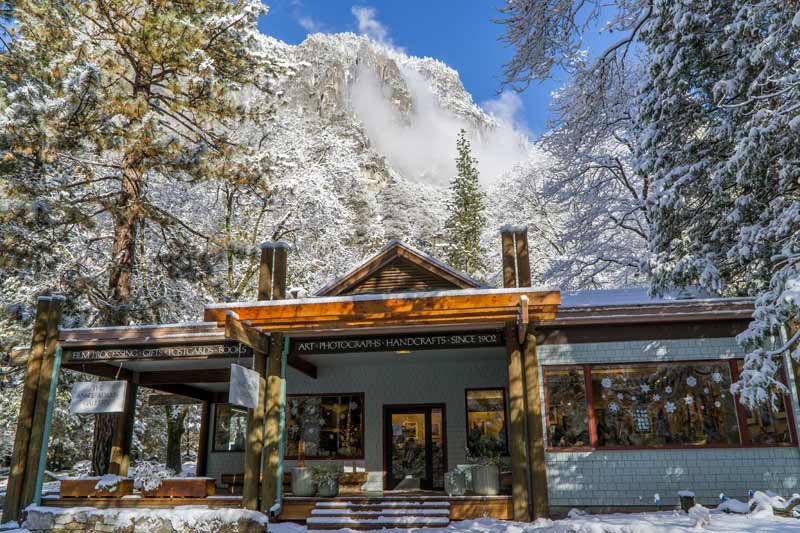 ANSEL ADAMS GALLERY (still owned by Ansel Adams' family) Indian Museum – cultural demonstrations daily; watch for Julia Parker, a very "young" 80+-year-old master basket maker whose baskets are in museums the world over.
Shuttle Point 3: THE AHWAHNEE Hotel: Great for LUNCH (dining room 209/372-1489 for dinner reservations only). You can lunch there (and enjoy the magnificent dining room with its 34-Foot-high ceilings, floor-to-ceiling windows and huge sugar-pine trestles) for around $20 to $25 per person. Allow a good one-to-two hours for your lunch. If there are only two of you, ask for a window table, which seat two at a maximum. They aren't always available, but it's worth requesting. Dinner prices are usually twice as high, require a dress code, and the view outside is DARK.
Shuttle Point 8: YOSEMITE VALLEY LODGE -Valley tours depart from here – info and reservations 209/372-4386. Valley tours operate year-round, but will be conducted in an enclosed bus when weather is inclement).
Shuttle Point 13a: CURRY VILLAGE: Ice skating rink, generally open November to early March
Shuttle Point 16: HAPPY ISLES: Hike to Vernal Falls Footbridge -.8 mile uphill both ways—can be icy and slippery in winter.
Shuttle Point 17: MIRROR LAKE: Walk about 1 mile one-way past Mirror Lake (mostly flat) for an up-close view of the face of Half Dome. It's an easy walk for a big payoff. Be prepared for snow on the trail in winter.
Viewpoint 6: EL CAPITAN STRAIGHTAWAY: This massive monolith, the largest single granite rock on earth, rises 3,569 feet from the base to the summit. Rock climbers from around the world converge to face the challenge of this massive monolith. From spring to fall, they can be seen inching their way up the sheer wall.
Viewpoint 7: VALLEY VIEW: Watch for the big pullout on the left as you approach the Pohono Bridge. The view from here is a panorama of Yosemite Valley from a different perspective, featuring spectacular vistas of El Capitan, Clouds Rest, Half Dome, Bridalveil Fall and other features of the Yosemite Valley landscape.
Viewpoint 8: (If returning via Hwy 41) – FERN SPRING: Immediately after turning left over the Pohono Bridge, you'll see a tiny cascade, known as Fern Spring, the smallest waterfall in Yosemite.
Viewpoint 9: (Toward Hwy 41) – BRIDALVEIL MEADOW: As you round the bend from, a sign on the right marks the spot where John Muir and Teddy Roosevelt met, in 1903, at Bridalveil Meadow. There Muir pled his case to protect the wilderness and establish a national park system.
Alternative Park Exits: (1) Exit straight ahead on Hwy 140 through the Merced River Canyon. This is a lower-elevation road, and chain requirements are rare. In Mariposa, take Hwy 49 southbound to Oakhurst. Hwy 140 westbound to Merced for access to Highway 99 either north or south. (2) Take Hwy 120 westbound for the quickest way to San Francisco. Be very cautious of this road in winter. A section of it involves some treacherous hairpin turns.
Special Note: When conditions dictate, you are required to carry tire traction devices (chains or cables) in your vehicle and be prepared to install them as necessary. You may be denied entry to the park if you don't have them. You may also be subject to a substantial fine should road conditions make them mandatory and you don't have them. Rental vehicles are NOT exempt from this requirement. By the way, winter in the Sierra Nevada is dictated by weather conditions, not by calendar dates. We've (rarely) been known to get snow in May.