You've heard the rumors. Yosemite is a nightmare in summer. Too many people, no parking, shuttles standing room only if there's room at all. There's a certain amount of truth to that if visitors don't prepare properly. But I'm here to tell you that you can find places of sheer magic, as well.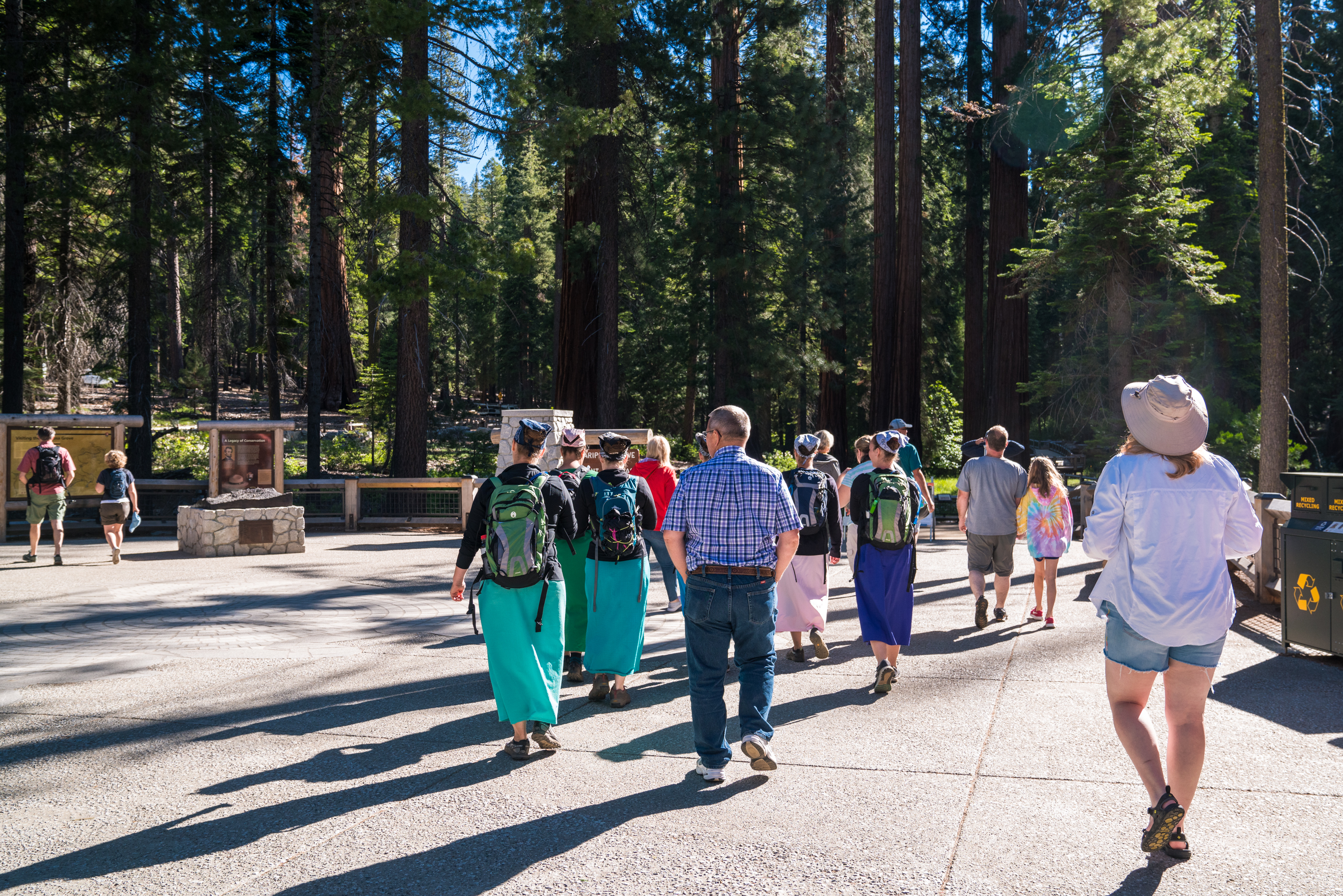 Visitors headed to the Mariposa Grove Trail
My hiking partner and coworker, Steve Montalto, and I did it on July 2. Granted it was a Tuesday, which is generally less crowded. We hiked from the arrivals area of the Mariposa Grove of Giant Sequoias all the way to Wawona Point, a round-trip of seven miles and 1,200 ft elevation gain to 6,810 at the Point. I'd done this trek years ago and knew the journey would be worth it, but I hadn't hiked beyond the Grove's oldest tree, the Grizzly Giant, since the Grove closed for renovation over four years ago. Steve had hiked in the Upper Grove but had never viewed Wawona Point, with its vistas all the way to the Wawona Meadow.
Azaleas in bloom in the Lower Grove
Hikers and the Grizzly Giant
To say I was nervous about this hike was an understatement. The last hike I did, in April, was in Yosemite Valley at 4,000 ft. It was a slog. Admittedly ten miles when we'd planned to do a maximum of seven tested the mettle of my younger hiking partners and me.
I'd hiked this trail previously and realized its challenges. It was uphill to Wawona Point. All uphill. Then I worried that Steve would be bored and wish he'd never hiked with me because I'm really slow going uphill. I'm 76, and Steve is, well, not 76. Not even close. But he is a photographer, and that makes a difference since he stops often to capture the beauty, and he packs a lot of gear.
We arrived at Yosemite's south entrance at about 7:45 am and spent a couple of minutes convincing our friend, ranger Sharon, that she couldn't jump out of the kiosk and into the car with us. We wished she could have. Ten minutes later, parked and ready, we found a fairly sizeable line for the first shuttle of the day. We had to wait through that one to board the second.
An abundance of green
Mariposa Grove is magnificently green after a very wet winter, and wildflowers have started to emerge. We saw wild iris, ceanothus, wallflowers, azaleas about bloomed out in the Lower Grove and emerging and full-bloom azaleas just beyond the cabin in the Upper Grove. The scent of the azaleas wafted through the Grove, which we could smell before spotting them. We found them in all stages from buds to blooms, as magnificent a display as I've ever seen. They won't be around too long, though, so if this is something you want to see, go now.
Although I'm a wildflower nut, admittedly I couldn't identify some of the ones we saw. Steve got photos of them, so I hope some of my naturalist buddies will be able to name them.
Mariposa Grove Cabin
Wildflowers in the Upper Grove
It's one mile from the arrivals area up to the Griz, with the California Tunnel Tree right behind it. And that's where most visitors stop. We took off for the Upper Grove from that point and didn't see another soul until we were passed by two horsewomen leading a mule about two miles up the trail. Who would have thought? A trail in Yosemite so close to civilization with no people?
For me, the trail was not as difficult as I'd feared, yet I had to take my time and conserve energy using the mountaineer step an accomplished hiker taught me on White Mountain years ago. Steve passed me multiple times, and I told him not to wait for me. I knew the way and would catch up eventually. Still, he did make sure I didn't end up in a ditch somewhere.
Admiring some of the Giants
More than hikers can be encountered on the trails
What a difference to not have trams rumbling through the Upper Grove. Hikers who can handle the distance and elevation lose themselves among ancient specimens of the largest living things on earth. (Actually, the largest tree is the General Sherman in Sequoia National Park, but I defy you to notice the difference.) Both Steve and I wished we could have spent the day there and have promised ourselves we'll return with time to spare.
We ended up back at the arrivals area at 1 pm, a hike of roughly five hours, seven miles and a good workout for leg muscles and lungs. And, even better, a respite for the soul and a bit of zen peacefulness in the middle of a busy world. The trail is well-groomed and easy hiking although uphill, with minimal rocks. We came back on the Mariposa Grove Loop, which for the most part is a paved or partly-paved road. That would not have been our choice except for time constraints.
Panorama View from Wawona Point. Wawona Meadow in seen in the distance.
Mariposa Grove sits just inside the south entrance to Yosemite National Park, making it one of the easiest parts of the park to access. If you don't want to drive, you can take a YARTS bus (seasonal) from Fresno and points in between, arriving at 8:12 am, 10:25 am or 1:50 pm, enough time to accomplish this hike before YARTS' final departure at 7:06 pm.
Takeaways: Go early (much cooler—temps were perfect when we started the hike, got a bit more robust toward the end), go midweek, take public transportation, if that's available to you. Take plenty of water, wear good hiking shoes, preferably with ankle support, layer your clothing. Most of all—savor the moments spent with the Gentle Giants.
Mariposa Grove Map courtesy of the National Park Service